I haven't been posting lately (not that I believe anyone noticed - did you?) because it's been a rough many weeks. Snow, ice, no school, trouble with my daughter's Medicaid benefits, bills, drama. I don't know if I'll ever blog about any of those (maybe) but for now I'm back to giving you a lighthearted post.
I'm not a craft blogger but I love doing crafts. In fact, I declared 2014 "The Year of Crafts" and have made an effort to make more things both to keep and to give away. Buying the Silhouette Cameo helped enormously, but I'm also trying to get back on track with knitting, at least a little bit.
Here are some pictures of some of my recent projects. I hope they make someone out there feel like it's OK to make imperfect crafts that are just for fun. I'm as in love with Pinterest as the next person, and I get great ideas from there, but it can make you feel like if your project isn't perfect and elaborate, it's not worth doing - or sharing on these here Intarwebz or whatever. So here you go.
First I want to show off my new washi tape storage system. I got the jewelry organizer for 30 cents from when the Target Dollar Spot was on clearance recently (I got a TON of organizing containers for 30 cents a pop, actually - these organizers, larger pocketed organizers, shoe boxes, underbed boxes...) Each pocket holds a roll of washi tape beautifully, and I put a small piece of tape outside each one so I'd know what was in where. The unopened Scotch tapes are from Target's Christmas clearance and cost around 60 cents a roll. The rest were from Pick Your Plum. By the way, washi tape is addictive and I have more on its way to me...
Washi!
Speaking of washi (I forgot to put this up initially - oops!), here are some tins from Trader Joe's that I
hoarded
saved and finally covered up with washi tape (the aforementioned Scotch brand). One stores my yarn needles. The other...not sure yet. I have more tins that I need to cover too.
I knit some boot toppers from a really easy pattern. I used up some part-cashmere part-acrylic yarn I'd had in my stash for eons. What you can't see is that I didn't have enough yarn to make a full pair, so the bottom of each topper is a different yarn. Nobody's going to see that bit anyway!
I made some tags on which I attach my 1" buttons in sets of four to sell at the local artist coop.
I made my grandmother a birthday card. On the inside I printed and trimmed a picture of my family.
And a custom envelope too.
For my friend's birthday, I made her a funny wine glass. (She'll see this and find out my secret - the wine glass was from Kroger's after-Christmas clearance and was a super deal.)
Updated: More things! Here's an etched glass candle (it says "Reiki") that I made for my friend and Reiki master, Dana.
And here is the back of my phone case, using the same vinyl from the stencil I made above (as you can see in the picture).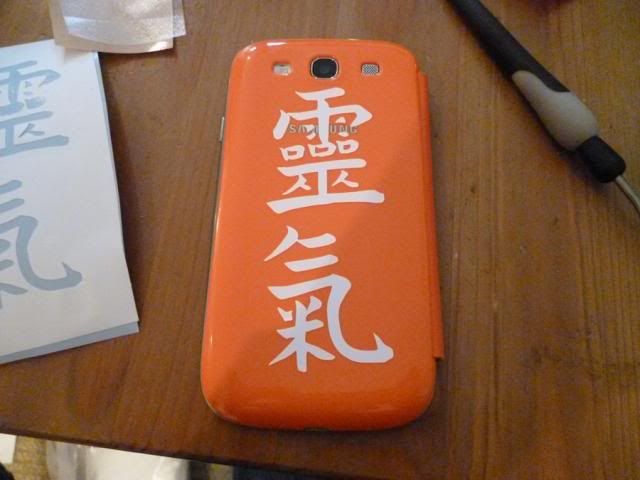 Here is a card I made a friend using a file from the Silhouette store (one of the first things I made - you can see that I have a lot to learn about gluing!). The toast is a little card that pops out and says "A toast to you!" on the front.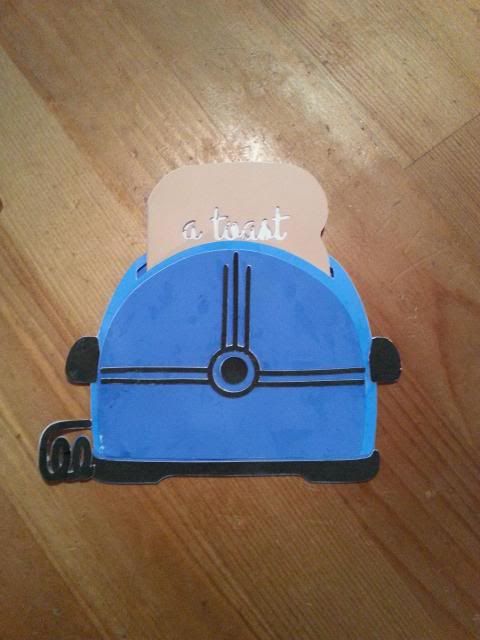 More knitting! A mason jar cozy. And a pretty green Cuppow from when they were on sale...
More Cuppow fun - If you squint, you can see that I etched a letter on the blue mason jar. Each of my kid's therapists got one of these for the winter holiday season - a Cuppow, a jar with his/her initial, and a Starbucks gift card.
And last but not least, one day I was looking around my house and spied this plain plastic trash can. PLAIN? No way. A bit of washi tape, a bit of vinyl, and voila. Instead it's a....silly trash can!
So those are some of the things keeping me busy lately. What about you?